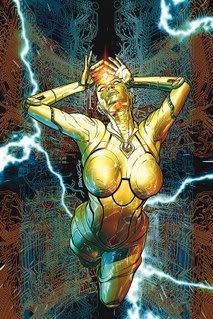 The images above are from recent covers of Ultimate Vision and Mighty Avengers.

Just when I think comics can't surprise me someone uses "Frank Cho" and "Ultron" in the same sentence and they're not being ironic. There's a strong tradition of cheesecake in comics. I have no problem with it in general but come on! Did Ultron wake up one morning and say, "It's not enough to crush Dr. Pym beneath my adamantium heel; I need to look smokin' hot while doing so!"?

What's next? Greg Land's sexy reinterpretation of Nimrod?