The Noetic Concordance staff is taking a much-needed vacation to Dragon*Con beginning tomorrow. I'll do my best to file some con reports but we're going to be in the Land With No Wireless Access for a couple of days. For now, we bring you this special, deluxe, encore presentation!

In the Marvel Universe every hero or villain with the title "Doctor" has an actual PhD. These guys had to do dissertations. Do you think Spiderman was ever subject to peer review? No, he just got bitten by a spider, slapped on a costume and then paraded around NYC like he owned the place. Sure, Luke Cage graduated from the School of Hard Knocks but he never had to teach a freshman chemistry class.

Here are just a few of the people who got their advanced degrees the Mighty Marvel way!

Dr. Octopus: Nuclear Physics
Dr. Druid: Psychiatry
Dr. Strange: Medicine (neurosurgeon)
Dr. Sun: Biology/Computer Science
Dr. Spectrum: Astronaut. The university which granted Joe Ledger's doctorate is in an alternate dimension. Don't get me started on the red tape involved in getting a copy of a transcript from Earth-S. Let's say physics for now.
Doc Samson: Psychiatry
Doctor Demonicus: Genetics

And the big daddy of them all: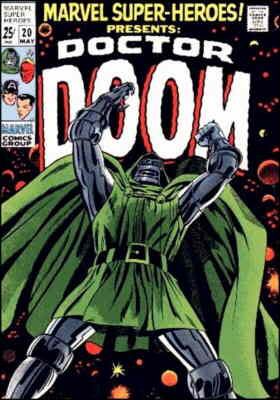 My favorite Victor Von Doom factoid is that he was Reed Richards' roommate.

That must have been a non-stop party.

"Doom commands you to be absent from the room this evening, Richards."

"What? Have you got a hot date?"

"That is none of your concern. Your inferior intellect could not possibly conceive of the--"

"Save the histrionics, Victor. I've gotta study and all my books are here."

"Curse you, Richards. You will rue the day you crossed Doom."

"Blah, blah, blah, you said the same thing when I drank the last of your weird, imported beer."

"Latveria has the best beer in the world and that stuff is expensive to ship!


So, Doom gets horribly disfigured and blames his roommate. Forever.

Richards gets back at him by being more humble than Doom. "Oh, no, 'Dr. Fantastic' seems so haughty. Just call me Mister Fantastic."

OK, so being more humble than Doom isn't that hard but Reed could have gone with the "Doctor" monicker. I suppose he went for the more marketable superhero name.

Unlike, say, Dr. Lemuel Dorcas:





It's not really a surprise that this guy's supervillain career never took off.