Blackhawk is an action comic from the 1950s which featured flying aces from a bunch of different countries and the wacky adventures they got into. Howard Chaykin created a limited series based on this original in the '80s but those covers aren't as funny. So, I bring you Blackhawk!

#42

Oh, man! Not only is it a giant robot, it's got, like, the coolest robot name ever! The Iron Emperor? Awesome! Is he actually the head of an empire?
Also, for a squad of international flying aces, the Blackhawks sure do spend a lot of time out of their planes shooting at stuff.
#56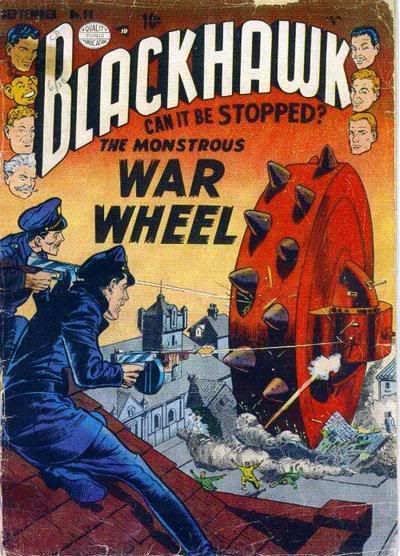 This cover is a perfect example of the fact that "Weird-Ass" and "Awesome" are not mutually-exclusive terms. Look at that thing! It would
never
work! Seriously, though, it's this sort of impractical defense spending that lost the war for the Nazis.
#107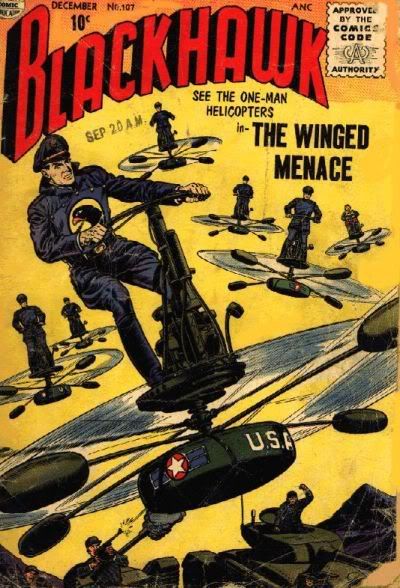 One-man helicopters. Why aren't we using these in today's Army? Oh, yeah, because they'll CHOP THE PILOTS INTO TINY PIECES!!
#106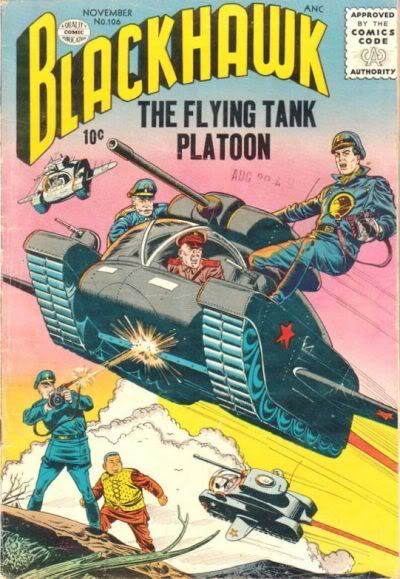 Flying Tanks. This one needs no further commentary. This cover is zen-like in its perfection. Bask in its magnificence.