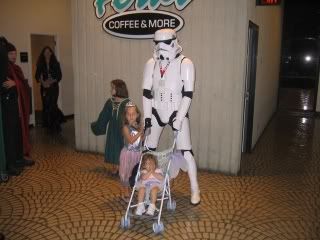 We're back from our vacation at Dragon*Con and we had so much fun (and so little sleep) that I never found time to update the blog. I'll provide more details later but the comics-related highlight of the con was attending a panel by Ted Naifeh and Eric Powell. I love both of their stuff and they had great things to say about comics in general and about the darker side of comics specifically.

I also chatted with Brian Stelfreeze of Gaijin Studios briefly. He's a great guy and a very good artist (see my earlier comments on Matador for an example of my feelings on Mr. Stelfreeze's work. I told him how much I like his art and he remembered doing a portfolio review for my wife two years ago. He asked me to pass on his compliments to her. Cool!

I also bought a bunch of $1 and 50¢ comics along with a couple of trades and way, way, WAY too many roleplaying supplements. I picked up a lot of indy titles I hadn't seen before and I'll review those along with the new Marvel/DC stuff I've grabbed lately.

Now for sleep...