Ocean #6

A great ending to a good series.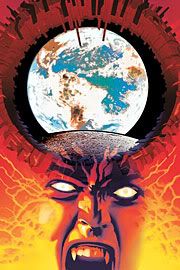 Expect to see Nathan Kane in a future installment of
The Badass Files
. I had to read one section twice to make sure I understood what was happening with the action but none of it was as bad as the "BUMP" incident from an earlier issue where the cause of a certain effect was not explained until the following page.
Chris Sprouse's
art is good and Kane does what
Warren Ellis
characters often do: He kills lots of bad guys by being smarter and more ruthless than they are. The supporting characters are awesome, too. I'd like to see a screenplay by Ellis but knowing what I do about Hollywood it'd get watered down by all the committees who'd get their hands on it.
Matador #3
Wow.
Oh
wow!
Young Avengers
is full of what I read superhero comics for.
Matador
is what I read "mature" comics for. This is a damn good story, well-told.
Brian Stelfreeze's
art gains momentum with each issue. When I go back and look at individual panels I say, "Damn! That there's a fine piece of art" because I become a cowboy when faced with aesthetically-pleasing things, apparently. However, it's not the kind of awesome art that distracts me from the story. It's the kind of awesome art that
tells
the story.
Speaking of the story,
Devin Grayson
is a purty good writer, yeehaw! Dang, I've gotta stop that. Anyway, Grayson is doing a great job with the writing. I think one of the reasons Stelfreeze's art works so well with the story is that he's got a story credit on this miniseries so he's got more of a connection to it.
And now it's time for the
Noetic Concordance Trade Paperback Rant
The threes of you who read this blog regularly know that I have a deep loathing for anything which has been put through the business end of the procrustean bed of the six-issue trade.
Matador
may continue to live because, so far, it looks like it's actually a six-issue story. Unlike
House of M
(which I'll get to in a future reveiw)
Matador
is moving along at a pace that matches the number of issues it has left. (See also:
Ocean
)