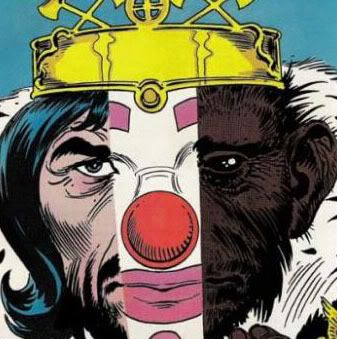 Greetings, subcreatures. I have returned from my vacation and am now ready to introduce another installment of Weird-Ass Cover Wednesday. This week, the proprietor of this 'blog' has chosen to poke fun at Monkeyshines Comics.

Monkeyshines. I see.

You must be kidding. Funny animal comics? I go away for a couple of weeks and this is what I find!

Also, "monkey". How droll. I tire of this. Carry on with your little jape-fest. I expect improvement next week. Serious improvement.

Vaklam: Welcome back, Your Majesty. Monkeyshines is a comic from the 1940s which featured most of the funny-animal tropes anyone who has seen more than three Warner-Brothers cartoons is familiar with. Some of the covers reveal a significant malacious streak. Enjoy!



OK, this one's pretty standard. Quite clever, actually. The rabbit and the mouse have instituted double-redundancy. If one of those weapons-of-cat-destruction doesn't wipe out their target there are two more that will surely do the job.

Also, the characters on the left are all people I went to college with. True story.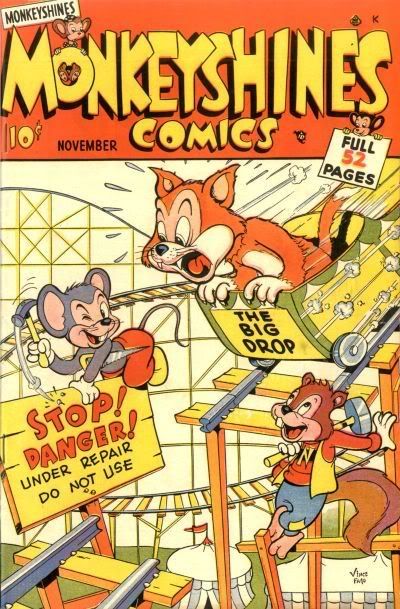 Roller Coaster. Nice touch. What gets me, though, is the expression on the mouse's face. On the cover for issue #21 above, he looks malicious but also a little angry. Like the cat has done something to deserve this fate. In this one, however, he is obviously beginning to enjoy causing this cat to plunge to a horrible death. Fortunately for Mouse and Squirrel, the sign meets all OSHA standards.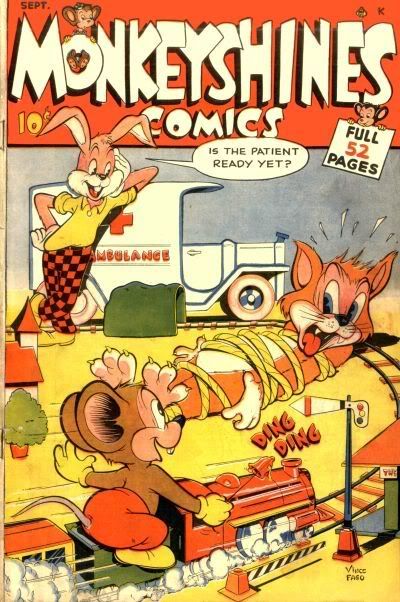 All right, now it's obvious that the mouse is a fucking sadist. He's made an elaborate game out of harming the cat and his rabbit buddy is on call to resuscitate the cat, keeping him alive so they can play out ever greater torture scenarios until their feline captive begs for the sweet release of death.

Hey, kids! Comics!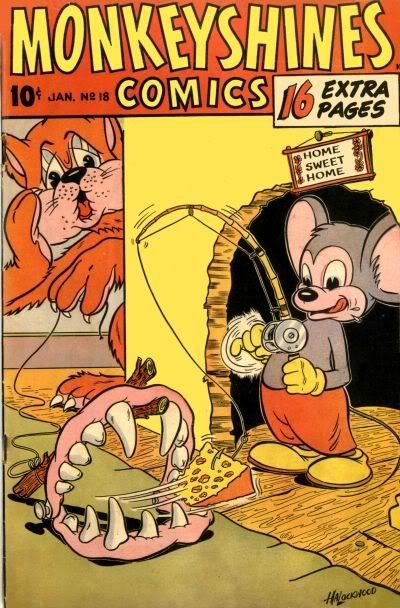 Oh, damn. Now, that's just mean. This is the final depredation. The killing blow. The mouse has literally defanged his would-be predator. And look at the mouse's expression. He has truly become that which he despises. He has stared into the abyss and the abyss has stared back. Things fall apart. The center cannot hold.

Fun for the whole family!