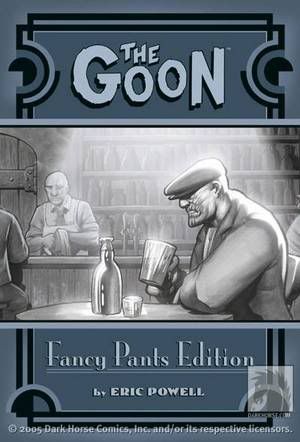 I got my copy of
The Goon: Fancy Pants Edition
last Wednesday despite the fact that it apparently doesn't hit the shelves until tomorrow.
Eric Powell
lives around here so I'm guessing that's why we got ours early.
I wasn't going to get it but I flipped through it and noticed that it only cost $25! Holy crap! I'm new to The Goon. The first issue of the comic I picked up was
# 12 (review link)
and I have been making plans to get the trades so I'll have the background.
Then this thing comes out. Wow.
It's got The Goon's story presented chronologically (including the two self-published issues) along with a soupçon of never-before-published material. This is exactly the thing I've been looking for.
I haven't read it yet (review forthcoming) but this thing is
beautiful
! I'm not a hardcover guy when it comes to comics but I'm glad I gave this one a second look. It's a class act right down to the endpapers. Well worth a couple of sawbucks and a fin. And, hey, the thing's even signed by Powell. Way cool.