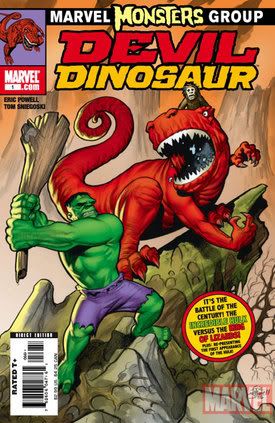 Eric Powell!
Devil Dinosaur!!
Kirby-inspired!!
That's pretty much all I need to say in this review. You'll make up your own mind about what those elements mean to you.
However, I will go into a bit more detail:
This story takes place in a time before recorded history. When things were simpler and gods walked the earth, barely noticing the lesser creatures around them. I am, of course, referring to the Silver Age.
Powell
(writing & drawing) and
Tom Sniegoski
(writing) knock this one out of the park. It's a silly, bombastic story with time travel, fightin' and aliens in Kirby suits. The page below has most of the artistic elements that make this book the most fun thing I've read in weeks: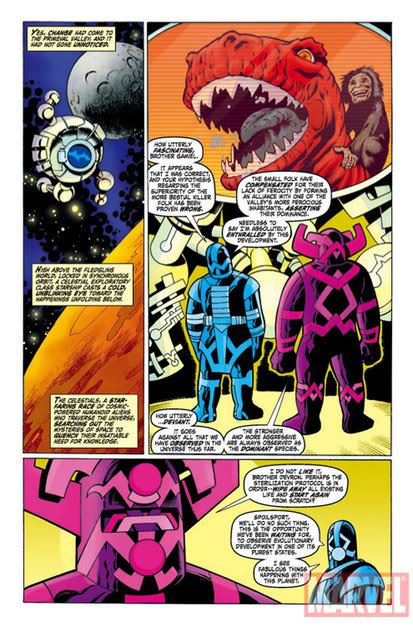 As you can see above,
J.D. Mettler's
colors are spectacular. The page which puts it all together is best shown in a larger size than my blog can handle so I provide
this link
.
This issue also contains a reprint of a 1960 Jack Kirby/Dick Ayers story which features the first appearance of Xemnu who shows up in a few early Defenders issues,
this one, for example
. It's is a bargain at twice the price!
If the other ones in this series are this good, I'll buy the individual issues and consider picking up the inevitable trade just to loan to my friends.