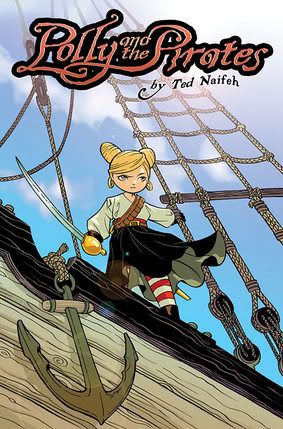 More people should be reading Ted Naifeh's comics. He writes and draws exciting, charming stories about interesting people doing cool things.

He's started a new miniseries called Polly and the Pirates which is about a very good, by-the-book, little girl at a boarding school who ends up on a pirate ship. This is an excellent setup issue in that it establishes the world and the characters without boring the reader with exposition. Several well-made secondary characters are introduced and I hope we see more of them in the series.

Like the Courtney Crumrin comics, this is a book that kids and adults can both enjoy. The pirates are scary to Polly but there's nothing here that will induce nightmares.

As you can see from the cover above, the art is similar to his work on Courtney Crumrin. It's cute and spooky and cool. Also like the Courtney books, the interiors are black-and-white which really fits the story and allows Naifeh to show off his abilities with shades of gray and lighting effects.

I can't recommend this book highly enough. If this looks like your cup of tea and your local purveyor of serialized, sequential entertainment devices doesn't currently have a copy, order it. It's still available.