In the proud tradition (1 issue so far) of Devil Dinosaur #1 we now have Where Monsters Dwell. If you read my review of Devil Dinosaur (or, gasp, picked up the comic) you know what to expect from this one. Unlike the first of these Monster-related one-shots, WMD (nice initials, there) contains three new tales by Keith Giffen, Peter David and Jeff Parker along with a spectacular cover by Eric Powell which ties them all together: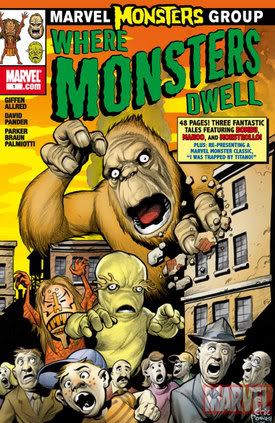 The Giffen story is my favorite (for the credits banner, alone) but they're all good reads and the art is high-quality all the way through. There's also a reprint of a classic crab-the-size-of-Montana story at the end.
The image of the splash page below does
NOT
do it justice!
Lovern Kindzierski
faithfully recreates the pointilist, four-color style and lays it over Giffen's Kirby homage bringing about a stunning combination of nostalgia and post-modernism that makes me want this Bombu cat to get his own series. Woah! I got all "comic-blog lit crit" on you there. Sorry about that. Er, check out the groovy page: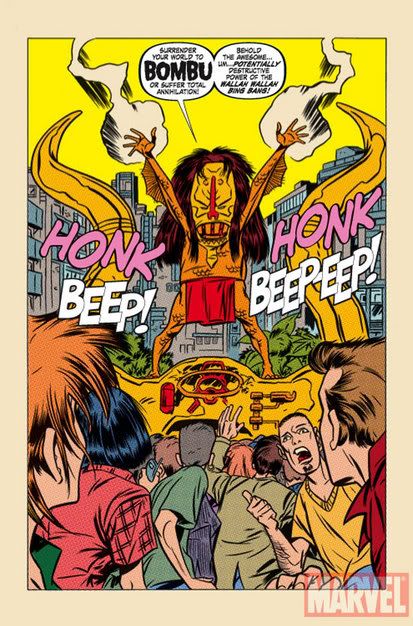 So, don't buy any of these monster comics if you're, y'know, averse to fun.