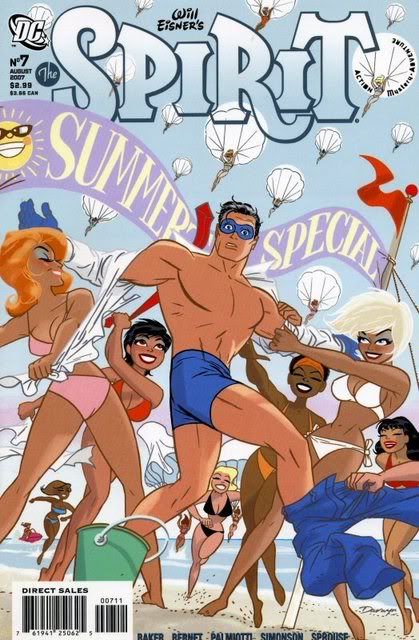 Darwyn Cooke drew the excellent cover but otherwise he took this month off. Fill-in issues are always a crapshoot but when your backup team includes
Walt Simonson
,
Chris Sprouse
and
Jimmy Palmiotti
you're doing something right.
This issue is divided into three stories. The first is by Simonson, Sprouse and
Karl Story
. It captures the feel of
The Spirit
in the same manner Cooke does. It features a socialite who reports the theft of a HUGE diamond. The Spirit investigates the crime in his usual manner and it's a blast to read.
Next up are Palmiotti and
Jordi Bernet
with my favorite story of the three. The Spirit chases a crook into an apartment building which is straight out of
Batteries Not Included
. As he chases the crook around, our hero inadvertently improves the lives of the residents. It's so much fun I read it twice.
Kyle Baker's
story is a mess. Normally, I really like Baker's art and writing but I was turned off by both in this story. I read this one twice, too, in an attempt to figure out what was going on but it's so disjointed that I wonder if the panels were arranged in the right order.
This Summer Special was entertaining and you don't even have to know anything about The Spirit to enjoy it. If you like any of the creators mentioned above, (maybe you'll even like the Baker story) give it a look.