Here's the cover: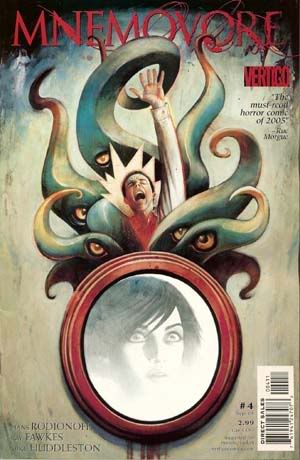 It tells you pretty much all you need to know about this comic.
Here's my spoiler-free review:
Oh...shit.
OK, that's not so much a review as a reaction. Here's my review with minor spoilers.
The miniseries has been realy creepy up to this point. With #4 it becomes full-on scary. If you haven't read the first three issues you're probably better off waiting for the trade since there are only two issues left in the story.
By the way,
Mnemovore
gets the
Noetic Concordance Trade Paperback Seal of Approval
because, so far, there hasn't been a single issue which has been just padding. The writers (
Hans Rodionoff
and
Ray Fawkes
) are pacing it appropriately along with scaring the hell out of me. I'm not going to have dreams about Mnemovore or anything, this is more of the "freaked out" kind of scared.
The series deals with memory, information and what happens when our access to those things goes away. The creepy, tentacled thing on the cover is some sort of monster which feeds on the memories of humans. Whenever it feeds on the stuff in your mind you don't get it back. Rodionoff and Fawkes explore different reactions to the alien feedings through the few people who are affected differently from most everyone else. These people aren't any better off.
The scariest element of this story, to me, is the recurring theme of the important people in the main character's life not remembering her. Just as she's getting pieces of her life back into place, parts of it begin detaching themselves from her. This sense of being isolated from people even when you're with them is conveyed masterfully by
Mike Huddleston's
art. He uses a dark palette along with a fluctuating level of detail depending on the needs of the scene.
If you like creepy, well-told stories and don't mind not having all of the information about the plot right off the bat, pick up Mnemovore when the trade comes out. Maybe it'll have some spooky extras.