Ultimate Spider-Man #80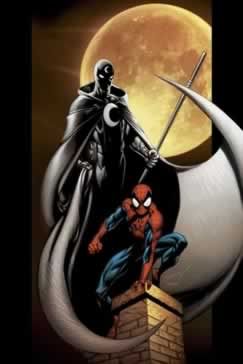 OMGOMGOMG!!!!!

Danny Rand and Moon Knight and Spider-Man all in the same comic at the same time. I can't wait to see Ultimate Iron Fist. He hasn't done anything yet but when he does you just know it's gonna be good! This storyline is going to rule. It will crack the internet in half! It will crush all other storylines with its might!

**ahem**

There, I'm better, now. This was a very good issue with a really nice, tense moment between The Kingpin and Spider-Man. It's the 2nd part of a storyline but you don't really need issue #79 to pick up what's going on. Brian Bendis is losing me on many of the other titles he's writing but US-M continues to be strong. Bendis groks Peter Parker and this title continues to be the one I anticipate the most every month except for Young Avengers.

House of M #4

This issue has my favorite art of the miniseries so far. Especially the first two pages. It does a great job of setting up the alternate-universe Genosha. There were some really confusing visuals throughout this issue and I don't know whether to blame the writer, Brian Bendis, or the artist, Olivier Coipel, for these weird layouts. I shouldn't have to re-read part of a comic book to figure out what's going on. I'm still not sure what happened in one of those sections. The story is getting better and it looks like something might actually happen in the next issue or two.

Freshmen #1

This is the comic that was co-created by Seth Green. It's OK. The premise: 14 college freshmen are housed in the science building. Something Happens and they all get superpowers based on what they were thinking or doing at that moment. The walking stereotypes students have only been introduced at this point and issue #2 will feature more information about their actual abilities. The art's good but the writing is really wooden in places. I'll see if they've worked the kinks out by next month.