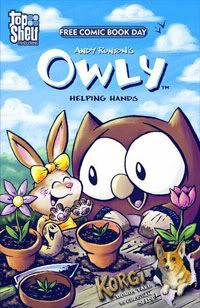 I was elated to discover that my favorite comic store got the whole run of free comics this year. I was less elated to discover that I had missed out on the latest Owly. I got everything else I was hoping for so it's all good.
However, I decided to see if one of the other comic shops still had any so 4-year-old son in tow I set off for the other side of town. Only to discover that they were out of Owly, too.
"Oh, well," I said and went off to look at the gaming stuff.
After a few minutes The Best Comic Store Employee In The World came up to me with a copy of
Owly: Helping Hands
. She said, "This was our display copy but since we don't have any others in the box you should take it".
Awesome.
So I took that and a bunch of non-free stuff and I'm home now reading through this enormous stack of comics. I'll post some reviews soon.
Happy Free Comic Book Day, everybody.