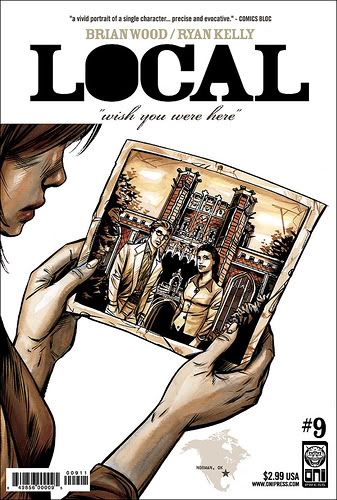 I can't say enough good things about this series. If you've been reading
Noetic Concordance
very much you've experienced the gushing. In fact, you can just
read what I wrote about issue #8
for more information on the series.
Each issue stands on it's own but there is an overarching narrative featuring Megan who is my favorite character in comics right now. Issue #9 is the best (so far) of an excellent series. We learn more about Megan's childhood and we get some insight as to why she's in a different city every year. This issue is about coping with the death of someone close to you and it's told and drawn deftly.
Brian Wood
and
Ryan Kelly
are teaming up to tell this gripping story and with this issue they really nail it. Each panel moves the story along at exactly the right pace and carries great emotional impact. I have enjoyed Wood and Kelly's work separately on such titles as
DMZ
and
Lucifer
but they are a dream team for a story like this.
Issue #10 is going to follow Megan's brother and how he copes with the events of issue #9. It looks like it's going to be a lot darker than Megan's version.
I can't wait.