I love science fiction. I love comics. I hate robots. For these reasons Magnus Robot Fighter 4000 A.D. is the perfect comic book for me. I particularly like the Gold Key series from the '60s and '70s but the revamp by Valiant (and then Acclaim) was good, too. The title tells you all you need to know about the protagonist. His name is Magnus, he lives in 4000 A.D. and he fights robots. What?

Frankly, all of the covers for this comic are awesome. The art is excellent and every single one of them features hardcore robot fighting. However, I have assembled a crack team of awesomologists to select the three most awesome Magnus covers.

#3

This one is truly awesome! Look at that robot! He's knocking over buildings and shit! Is Magnus afraid? What do you think?!? Also, this one reminds me of the stuff I used to draw on the back of my notebook in junior high so it gets extra points.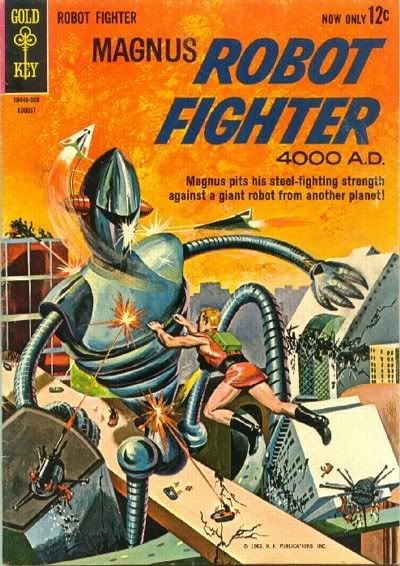 #6
Big, huge bug! Brainwashed, rock-wielding children! A revolt! Damn!
#4
The first two produced high readings on the awesometer but this one is off the scale! That big-headed robot dude is pretty awesome as is Magnus's underwater action but the shark pushes it over the edge. Magnus = Badass.