Shang-Chi, Master of Kung Fu was created to cash in on the martial-arts movie craze of the '70s. And it worked! Most of the Master of Kung Fu covers featured the title character beating the crap out of a bunch of other people. Big surprise. However, the ones I love best are the covers where they said, "What's the wackiest situation we can put Shang-Chi into?" For example:

#19

Shang-Chi vs. Man Thing. The art's not very good on this one but the concept is so high I can't even see it from here. This is the kind of "who would win?" scenario I love to see.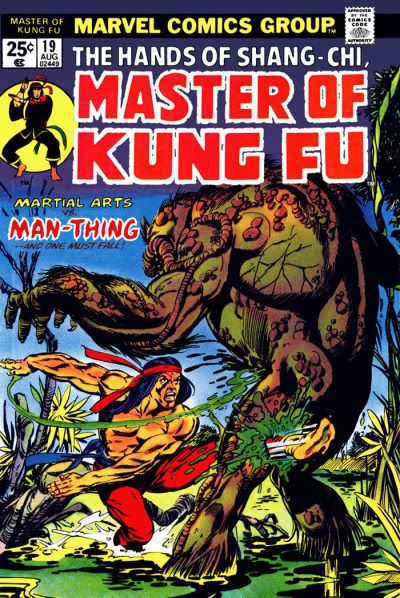 #60
Ah, yes. Doom. Everybody in the Marvel Universe has to go up against Dr. Doom at some point. Luke Cage
took the fight to Latveria
when Doom stiffed him on a lousy 200 bucks! Now, Shang-Chi gets his turn.
#57
This is my favorite
Master of Kung Fu
cover of all time.
Shang-Chi vs. The Red Baron!
No more needs be said.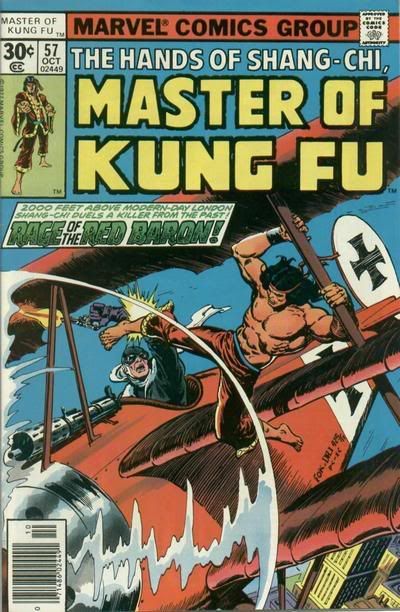 -=Pulse-Pounding Bonus Covers!=-
Here's a reproduction of issue #23 in Dutch! It's got the word "d00ds" on it. Shang-Chi was 1337! It also bears the phrase "Het levende wapen" which means "The live Weapon"! I am totally getting that tattooed on my forehead.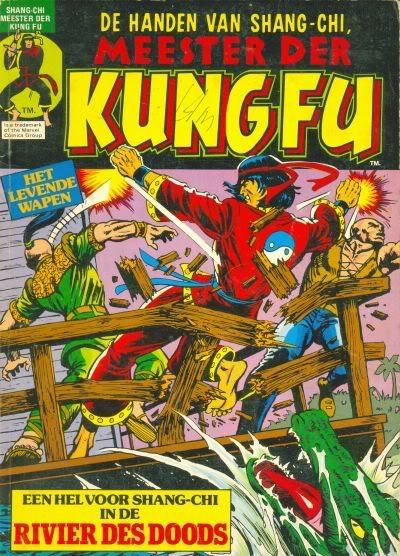 And here's the English version: